Profoundly Superb Pumpkin Seed Recipe (It's About Thyme!)
Well, the title could be overselling it slightly, but this recipe is pretty darn awesome, if I do say so myself.
What Do I Do With Those Seeds?
'Tis the season for pumpkins, and the seeds are very healthy, so don't throw 'em out! Get your protein, Omega-3 and Omega-6 fatty acids, magnesium, and zinc, along with a healthy dose of fiber. I have seen other recipes that use Worcestershire sauce, but I haven't run across any that use thyme, which I think adds a nice hearty flavor. There are lots of recipes that use garlic salt or powder, and you can really season with whatever spices you like. There are even sweet recipes!
Homemade Pumpkin Pie Tradition
My husband and daughter have a little tradition. Every year about this time, they get pie pumpkins from the store, and make homemade pumpkin pie. It turned out just lovely. They used store-bought crust, and made one pie with a shortbread crust, and one with a graham crust, and we all agreed we liked the graham crust better. Just a little sweeter. We even saved a few of the seeds to try to grow our own pie pumpkins next year.
So, that's how we end up with the smaller pumpkin seeds, which are not quite so "woody" as the larger Halloween pumpkins produce. However, I don't mind the bigger ones. I ended up with about 1 3/4 C of seeds.
Preparing the Seeds
Separate the seeds from as much pulp as you can. This is the least fun part of making baked pumpkin seeds. It does help to have them in water while you do this. However, you probably won't get it all, and that's okay! The pulp adds a little extra flavor.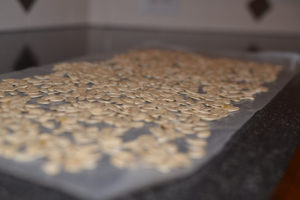 Dry the pumpkin seeds overnight if you have time. If not, you'll want to cook them longer in the oven. Low 'n' slow, for a nice crisp texture. There are also methods to boil the seeds in salt water first, which is a nice option for better salt distribution. Basically, boil the seeds in salt water for 10 minutes, 1 Tbsp salt per 1/2 C of pumpkin seeds.
Ingredients & Directions
Oven: 300 degrees
Prep time:5 minutes
Cooking time: 40 minutes to 1 hr.
Ingredients:
2 C pumpkin seeds
1 T butter (I used unsalted stick butter, which has less water than spreadable butter)
2 tsp Worcestershire sauce
1/4 tsp seasoned salt
1/4 tsp ground thyme
Preheat oven to 300 degrees. Melt the butter in the microwave, drizzle onto the seeds and mix until distributed evenly. Add the Worcestershire sauce and mix again. Evenly sprinkle on seasoning salt and ground thyme and mix thoroughly.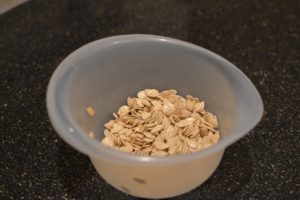 I really love the Reynolds Wrap no-stick foil, it makes cleanup so easy! At least line the cookie sheet(s) with foil of some kind, or use non-stick spray. Spread the seeds evenly so they are mostly in a single layer. Bake in oven until slightly golden and crispy, stirring occasionally. If the seeds have been dried, expect it to take about 40-45 minutes, or if not, it will probably be closer to an hour or more. Keep an eye on them.
When they come out of the oven, they sound like you just poured milk on a big bowl of Rice Krispies! What are those little elves saying? They're saying, "Wow, you persistent human, you must have really wanted roasted pumpkin seeds!"
Feel free to add more seasoning if you need to. Better to use too little and add more, than to over-season. And voila, you have a nice healthy snack!
For another great holiday recipe, try this Green Bean Casserole recipe adapted from Diners, Drive-Ins & Dives!
Green Bean Casserole Recipe from Diners, Drive-Ins and Dives