Easy Usable Gift Ideas For Anyone, Anytime, Anywhere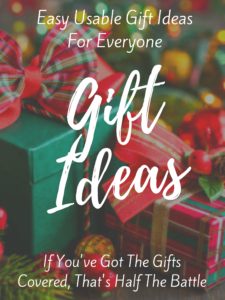 I have a hard time buying gifts. You never know what people really want (especially in this day and age of technology). And if they're like me, they have a hard enough time organizing the stuff they already have, so I also don't want to contribute to the clutter. And, the whole thing just stresses me out. So to make it easy, here's a list of versatile, and useful gift ideas. And many of these gifts, once used up, take up little-to-no space. *This is an updated post from last year. I think I made it better!
Gift Cards
Appy Gift Card: Amazon, Google Play or iTunes…they can buy apps, movies, books, or music, or nearly anything else they want.
Foody Gift Card: How about a gift card for a favorite restaurant, a popular restaurant, or an expensive restaurant they might not normally go to, a gourmet food store, a specialty food store, or "food-of-the-month" club (see below)?
Drinky Gift Card: Coffee (Starbucks, Moxie Java), or roastery, brewery or winery "Tasting Tour" and/or gift card?
Movie Gift Card: For a lot of folks, going to a movie on the holiday is a tradition, or maybe sticking movie tickets or a movie gift card in the stocking is a tradition. It's a good one.
Food Gifts
Coffee, Tea, or Hot Cocoa: How about a couple of those cute little bags of coffee or a big bag of their favorite coffee, along with creamers, and syrups? Or hot cocoa with marshmallows, candy canes, and Hershey's Kisses. Or a couple of kinds of loose or bagged tea, with a tea ball and one of those silicone tea cup covers…with or without mugs. Mix and match any or all of it.
Bottle of Wine: I love Moscato (but that's just me). Add wine glasses and a cork screw if you like. They also make all kinds of toppers and "outfits" to dress up a bottle of wine.
Bottle of Liquor: What do they like to drink? Get the their specific drink, or something even better (like getting Patron for a tequila drinker who doesn't normally spring for the good stuff). Throw in some shot glasses and limes, or some margarita glasses with some margarita mix, salt and limes. Lots of options here.
Or get them a sampler with the little bottles.
Feeling Lucky?
Lottery Tickets: Scratch Games are always good. Powerball tickets can be fun a fun gift if there is a large jackpot (and hopefully they'll give you a spiff if they win big). In my opinion, "joke" lottery tickets are not funny. A punch in the face on Christmas is not that funny either, but perhaps deserved.
Something For Everyone
Amazon Prime Membership: $99 per year, and the recipient enjoys free two-day shipping on a lot of items, plus free Prime streaming movies, music, and books, and more. We have had an Amazon Prime membership for the last several years, and we love it, especially for the movie-watching and the shipping.
The Gift That Keeps On Givin' The Whole Year
Blank Of The Month Club: Flower of the Month, Beer of the Month, Wine of the Month Club. It doesn't stop there, not even close. Cheese, Cigars, Chocolate, Jelly, Pizza, Bread, Coffee, Bacon, Fruit of the Month, just google it and you'll get choices. And now Subscription Boxes are all the rage, which arrive monthly with a selection of things for the recipient, everything from makeup to beauty supplies, boxes for men, all kinds of foods, spices, and so much more. Again, GTS (Google That Shizz).
Be creative, and personalize it if you can!
Gift Basket or Bag (Coffee, Tea, Hot Cocoa, Movies): You can personalize a gift basket for nearly anyone. See above for ideas for hot beverages. Movies? Put a couple of their favorite DVDs in one of those popcorn buckets along with some of those "Movie Theater" candy boxes. And a gift basket specific to them (they love hot sauce? collect bears?) is always fun.
Dress It Up
"Just" a gift card can seem a little anti-climactic when you go to hand it to them.
Putting the gift card into a greeting card is one way you can go. You can add a kind of "gifty" candy, things like (my fave) Ferrero Rocher, Lindor Truffles, Andre Mints, Turtles, or something you know they love…my hubby loves Junior Mints.
Adding a little Christmas ornament (especially one that means something to the recipient, like something for that bear collector) is a nice little addition, or a small piece of jewelry, or even a candy cane.
Include a related gift card in a gift basket (a gourmet coffee gift card included in a coffee gift basket, or a movie gift card with a movie-themed gift).
Or you can go the complete opposite route! Find the biggest box you can, put nothing but the gift card, or add something weighty to keep them guessing. It could be a brick, that family-heirloom-afghan you want to pass down, that new pair of ski pants they wanted, or something you know they REALLY don't want–that's the joke, and the gift card is the real gift.
I hope this makes it easier to get some stuff crossed off your gift list, thereby making your holiday season a little less stressful. Merry Christmas from my family to yours!

Need a great side dish for your holiday meal? Try this awesome Made-From-Scratch Green Bean Casserole recipe.
Green Bean Casserole Recipe from Diners, Drive-Ins and Dives